Universities in Canterbury: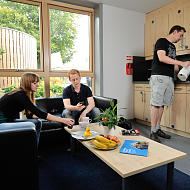 The University of Kent
Kent is a leading UK university and a popular choice for international students. In the Top 10 for s...
---
Register
By registering with our website you will benefit from email updates specific to the preferences you provide. We will send you specific information and services tailored to your study abroad trip
×
Enquire
Fill in the application form below and we'll get back in touch with you with the best deals on accommodation tailored for you.
×